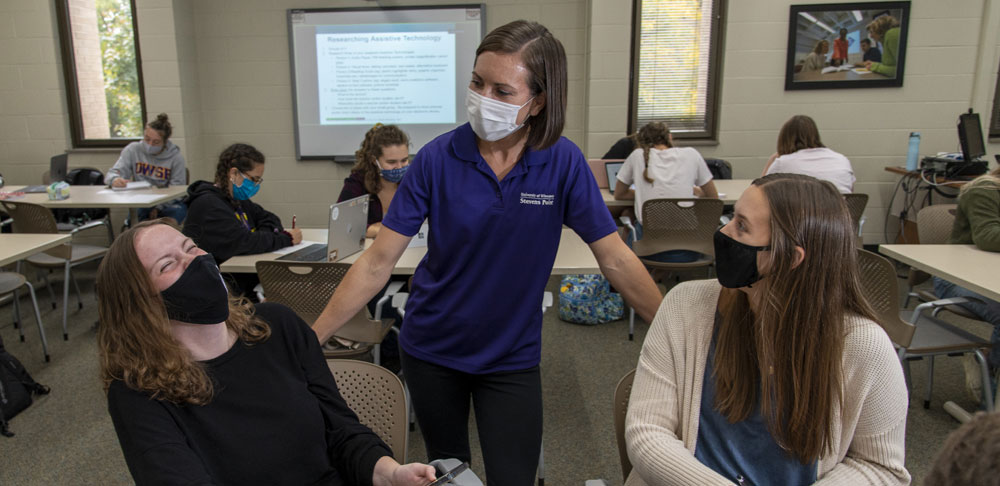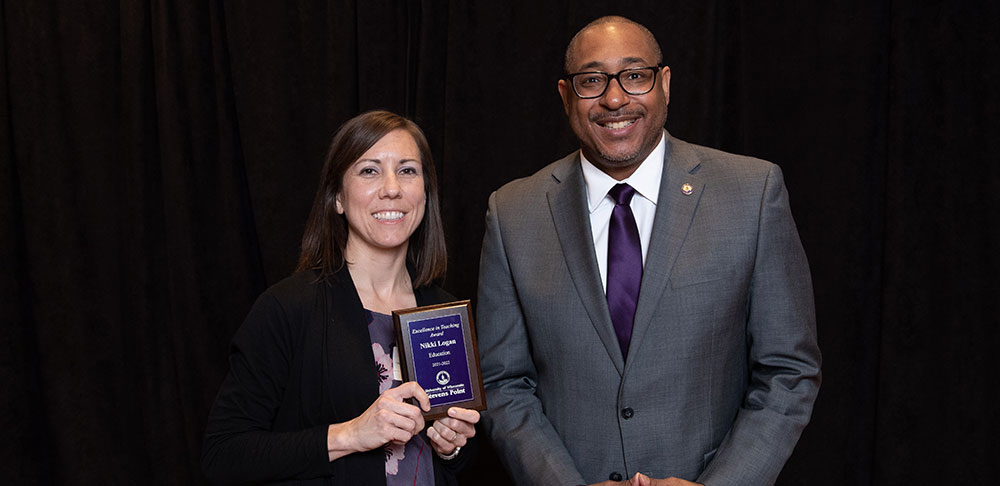 Since 1894, UW-Stevens Point has been at the forefront of preparing future teachers. Today, there are growing enrollment numbers in both the School of Education undergraduate and master's in education programs, and a 96 percent rate of immediate employment and job advancement among graduates.
But teachers know it's not about numbers—it's about the students.
That's where Associate Professor Nikki Logan's commitment to excellence in teaching is part of the proof and one of the many reasons why she was presented the 2022 UW-Stevens Point Excellence in Teaching Award.
"Being a professor in the School of Education, I see each class, assignment and student interaction as an opportunity to show–not tell–students how to be an educator," said Logan.
Logan believes in actively engaging students in student-centered learning activities that incorporate course content and the individual experiences of the students and her. "I ask them to share experiences, I share experiences."
A part of making connections and being actively engaged in learning is thinking critically.
"Throughout my classes I prompt students to think about their prior life experiences and help them make those connections with what they are learning in class­–inside or outside of our four classroom walls."
Much happens in her classrooms via social learning and interactive dialogue, as well as hands-on learning activities.
"If you were to see my classes, you would see students matching keywords with definitions, doing jigsaw discussions where they meet with various partners, and engaging in inner-outer circle activities."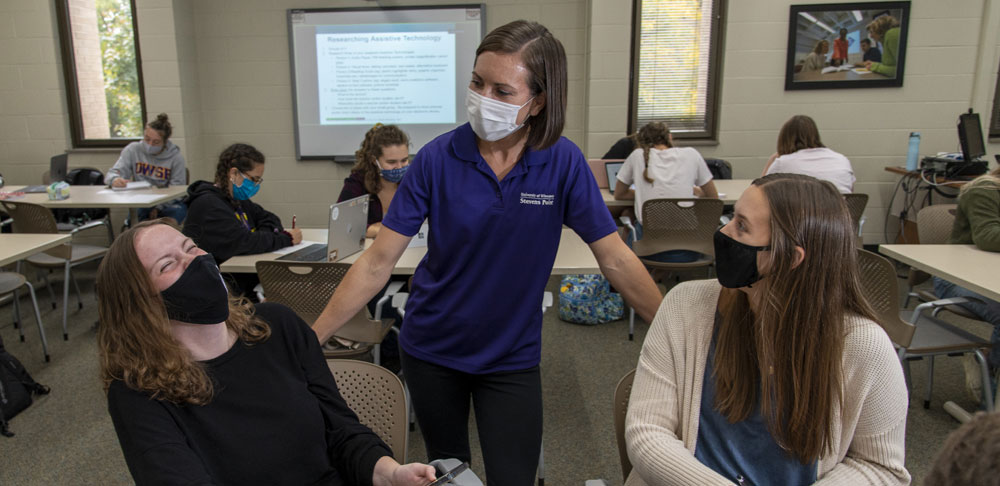 Another characteristic that sets Logan apart is her natural ability to foster a positive, safe learning environment, an important skill in today's EDI-aware classroom.
Logan has recently included topics in her class about how to make teaching sustainable, improving teachers' mental health, the teacher as an advocate, and how special educators can mentor other.
"Helping my students understand that there is no one correct philosophy or method for educating students with exceptionalities; only to educate students with exceptionalities with high expectations, an asset mindset, dignity, and respect so that they are prepared when they embark on their professional endeavors."
Students regularly comment on Logan's inspirational and honest approach to how she leads each class. "She truly showed me what a teacher should look like and was there to help me become the best teacher I could be each step of the way," said UW-Stevens Point alumna Allison Campbell '19.
An important trait of an excellent teacher is one who evolves over time. "Just as my life has drastically changed over the past 10, seven, two years, the lives of my students have drastically changed," said Logan. "Instead of solely focusing on what I teach and how I teach it, my biggest focus now is on who I teach–what do they need to learn and how do they need it delivered?"
"The absolute best educators are the ones who are reflective practitioners. Nikki is the epitome of this model," said colleague Professor Perry Cook. "She is an educator who has already positively impacted hundreds, if not thousands, of lives in her time at UWSP!"