The Tutoring-Learning Center, which I love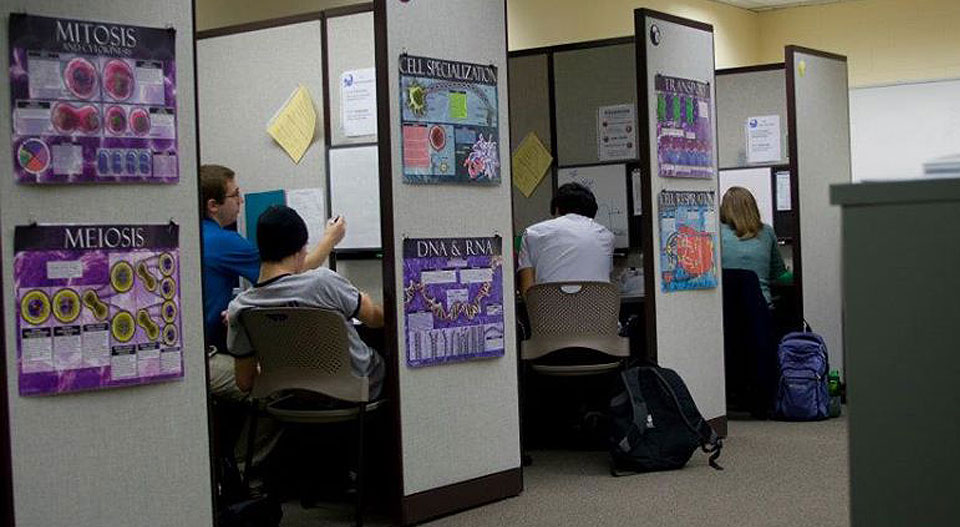 Alright, so in the chronicle of my signing up for more and more things, I've written my love songs for my very first campus involvement, SPAFCS, and my third, the Cupboard. But the second thing I ever got involved in definitely merits mention, because it's one of the most phenomenal campus resources for ANY STUDENT and I can't even haaaandle it I love the place so much. Like almost everything else I've done here, I sort of stumbled into it. Hopefully if you read the things I write, you are no longer surprised by this. It's just my life.
When I met my English adviser Barbara Dixson (phenomenal professor, incredible woman) for the first time, she made a judgment call on me within 10 minutes or something crazy like that that I would be a good fit for working at "the TLC," as she said. I had no idea what it was or what that meant, but she encouraged me to check it out. She called over there on the phone as I sat in her office, actually, and referred me to meet the head honchos, Paul Kratwell and Maureen Giblin. So she strong-armed me a little, in retrospect, I feel. I should really formally thank her for that.
The next day, I toured the Tutoring-Learning Center for the first time. I was asked if I'd like to apply to take the practicum course that trains and qualifies you to become a tutor/writing consultant (and employee) there. I said I'd love to, and I applied. I was accepted and took the course and here I am, almost four semesters later, absolutely LOVING IT.
The Mary K. Croft Tutoring-Learning Center is nestled in the basement of the Learning Resource Center on campus. It's just down the hall from the office where you check out clickers for class, which I hate to do. It's available to all UW-Stevens Point students, and offers services in all kinds of stuff. The TLC's two halves—Tutoring in Maths and Sciences and the Writing Lab—serve hundreds upon hundreds of students each semester, and they employ dozens upon dozens more. It also keeps winning that Best Place to Work on Campus award. No big deal. (hair flip) Anyway, I work for the Writing Lab side. What I do there is talk to people about their writing and about their reading. Students come in with papers or with their notes and textbooks, or they come in with resumes or personal statements or anything written, really. And I talk to them.
As a writing consultant/tutory person, it's my personal undertaking to really work with people on the way they think about their assignments and their courses and their writing and all of that good stuff. We don't just proofread papers, although we can help with that (and I personally love helping people identify patterns of grammatical issues in their writing, well, because I love grammar. Sue me).
We give study tips, help decipher assignment expectations, brainstorm ways to study and ways to read in different classes for the best comprehension; we help explore the different rules for writing in different disciplines; we help writers revise creative pieces, workshop their professional writing, organize essays, develop topics for writing assignments—you name it. It's a really dynamic place, and a comfortable and welcoming one as well; every tutor has their expertise and their own style, and there's students from every discipline working in the place.
Writing Lab services are absolutely free to students, and some come weekly while others come in as they need to (sometimes at the last minute before the class where their paper is due). We work with graduating seniors on their ridiculously high-level stuff, and we check out the notes and first papers of freshmen who want help learning to study, and we do everything in between. We work with English language learners and experts in their fields and people who are really freaked out about college. People are pretty confident about their work sometimes, and sometimes they come in confessing that they don't feel like they have a clue.
I have some of the most fun I've ever had working there. It's incredible to see what peers accomplish together. The level of collaboration and creation in the place is mind blowing. I mean, being a gigantic nerd I'm more likely to get excited about this kind of stuff, but it IS exciting!
Stop in. If you have a rough idea or a rough draft or a rough course, make an appointment. Want an extra set of eyes over your paper? Bring it in. Seriously. We do all of this and more. Also, it's free. Did I mention that? You can hardly afford NOT to go.
-Amy
Amy Vida is a junior at the University of Wisconsin-Stevens Point majoring in family & consumer sciences and English.